Spring Sampling 2015
It is finally sampling season and spring has arrived!  The warmth of longer days is welcomed on the Central Coast and the dormancy of winter has yielded to stunning displays of new life.  Lupines and paintbrush (Castilleja spp.) are standing tall in estuaries, splashing colour around the lush green landscape. Bald Eagle chicks (Haliaeetus leucocephalus) are beginning to fledge from their 800lb nests and young Pacific Salmon (Oncorhynchus spp.) are moving down river to begin their vast and impressive journey to the open ocean and back again, bringing with them a collection of invaluable nutrients unique to the terrestrial ecosystems that thrive upon them.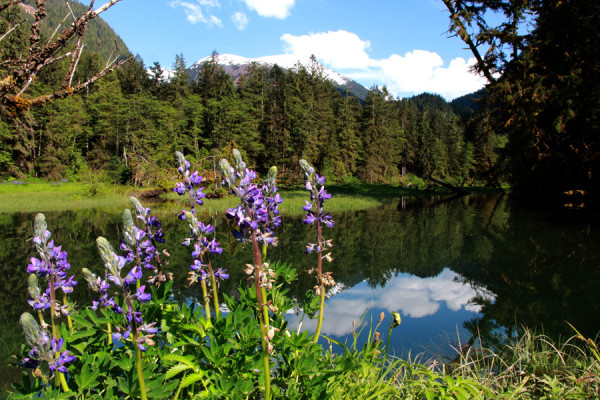 The 2015 bear research crew is made up of team members from the Kitasoo/Xai'xais Nation, the Spirit Bear Research Foundation, Raincoast Conservation Foundation, and the University of Victoria Applied Conservation Science lab. After several weeks of hard work, we have completed the construction of our non-invasive passive hair snags to capture hair samples from black and grizzly bears, as well the set-up of our remote wildlife cameras to help tell the story of these lumbering omnivores.  From just a few strands of hair, we are able to determine the spatial behaviour and health of the population, individual stress levels, and annual diet. Remote camera footage validates sex and age of the visiting animals and allows unique insight into their behavior.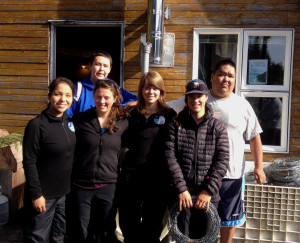 To collect these hair samples, we build non-invasive barbed wire fences strategically located on animal trails, by salmon bearing streams, or at higher altitude thoroughfares that link watershed units.  At many sites, we can see the legacy of the salmon return from years previous – vertebrae, jaw bones, and operculums resting in the mossy flats and embankments from last year's feast.  Newer bear sign is abundant, indicating that the bears are awake and moving down to estuaries where succulent Lingby's Sedge is sprouting in abundance.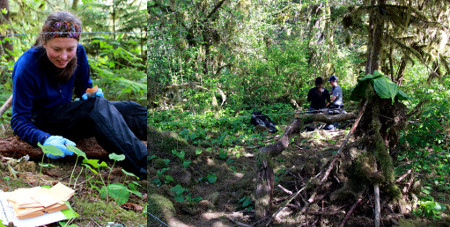 Less snow pack and early blooms are indicative of a warmer year in the Territory.  Such phenomena can be seen right from our dock at the float house lab!  Just the other day we spotted swarms of krill (Mysidae) that are generously foraged upon by tiny juvenile fish and giant baleen whales!  Evidently it was also a successful winter for some mother bears at least.  We have spotted a few yearling cubs tripping on their own paws to keep up with their swift mommy.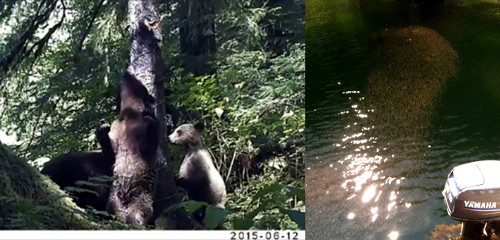 As the setup round draws to an end we have built 71 sites in the Territory, which we hope will provide lots of samples to tell a thorough story of the bears that live here.  As these roving omnivores awaken from their snowy dens, bringing life to the landscape, we welcome their arrival as the most majestic symbol of spring in the Great Bear Rainforest.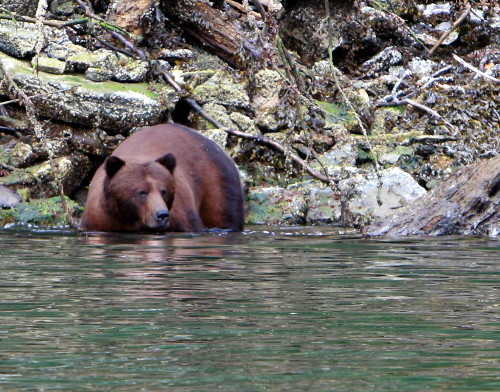 Ashley Stocks and the SBRF research team.